Redefining Education.
MakerMax specializes in practical learning solutions for embedded systems and the Electric Vehicle powertrain. Each course is designed from ground up to create a learning ecosystem for you that is sure to 10x your career.

A FLEXIBLE LEARNING ENVIRONMENT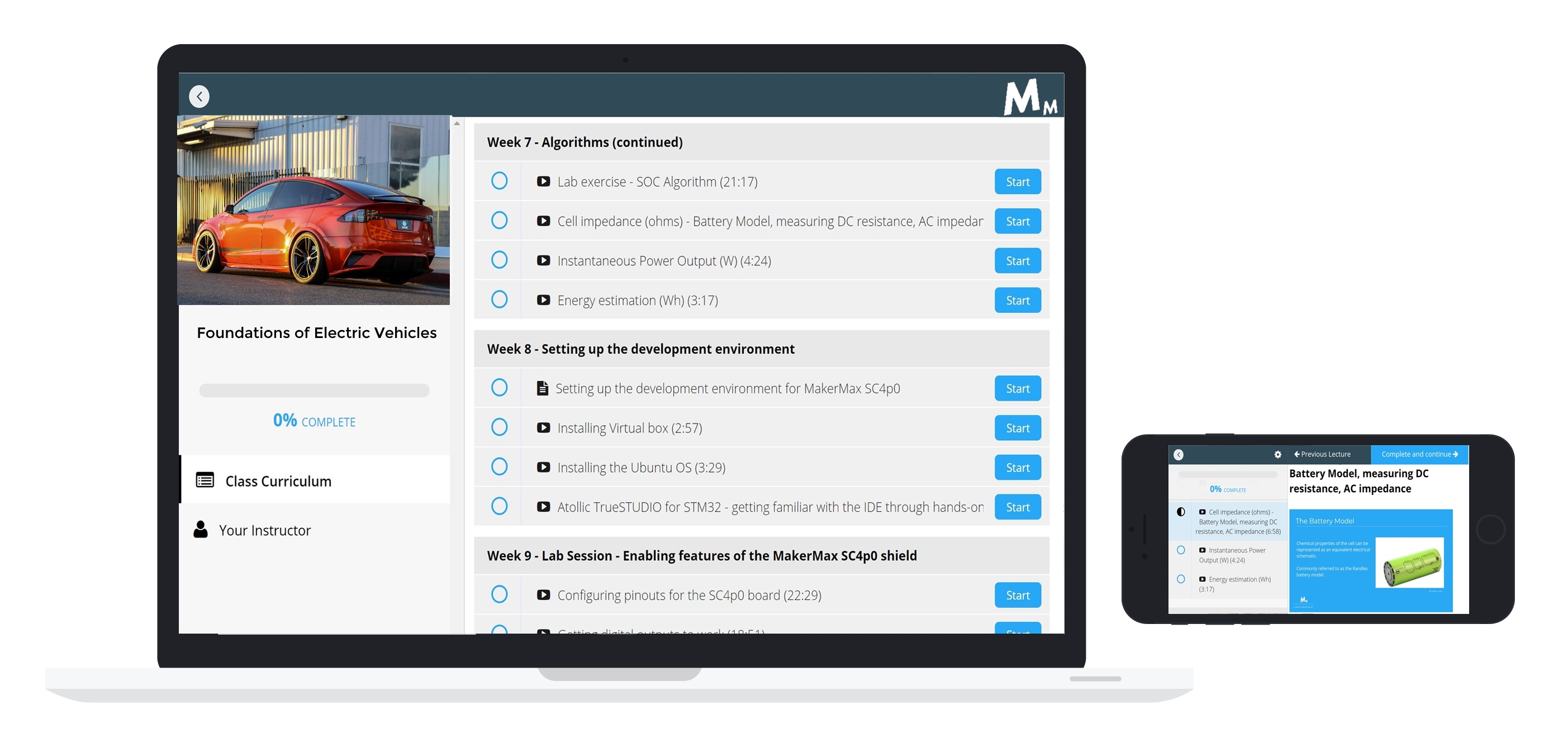 Our learning environment is loved by our enrolees. It is intuitive to use and can be accessed through any device, a computer, mobile phone or tablet. Here is how it will help you -
Video lectures are recorded in a face to face or lab environment with dynamic lecture slides at the backdrop. This makes the learning environment as effective as the instructor being right next to you.
Lab exercises are showcased through videos that allow you to learn in a hands-on way as experienced instructors show you the way.
These experiments and many more can then be conducted on hardware kits that are shipped to your address worldwide.
Quizzes and assignments provide a checkpoint for you to assess how you are doing in the course and how far your learning has come.
Forum and live chat support ensures that all your course related queries are solved in timely manner. Having the right guidance at the right time can make a huge difference in your understanding of the material and save hundreds of painful hours trying to find the right information yourself.
Final exam is conducted and a certificate is provided upon passing the course requirements and exam. This is your certification of achievement which is highly regarded in the EV industry.

LIVE COACHING SESSIONS
ONE-ON-ONE COACHING SESSIONS FOR THOSE HARDER TO SOLVE QUESTIONS

Apart from our popular course programs, we also offer one-on-one live coaching sessions to help you grasp a problem or concept in detail.
To learn more about one-on-one coaching, click here.

Our courses are available in the following currencies - INR, USD, CAD, GBP, EUR. Your preferred currency can be selected during the course checkout process.