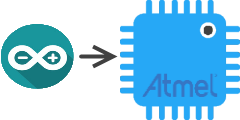 COURSE STRUCTURE
8 SECTIONS PACKED WITH HANDS-ON LEARNING

The content was generated from scratch in a way to get the point across to you, in the most efficient, exciting and engaging way!
Section 1 will help you understand the differences between Arduino and 32 bit ARM Cortex. You will also understand the Cortex-M instruction set.
Section 2 is dedicated to the setup of the development environment and hardware. This section also contains reference documents that you will be using for the rest of the course.
Section 3 is about the processor fundamentals. At the end of this section you will be comfortable with the inner workings of the processor, the general and special registers that do all the magic inside the processor. You will learn how to interpret the assembly instructions and how they work inside the processor.
Section 4 is about the peripherals. You will learn the theory behind the ADC (Analog to Digital Converter) peripheral.
Section 5 is the first project of this course where you will sample an analog voltage using ASF libraries in Atmel studio and understand how the peripheral and processor work together to convert this into a digital code.
Section 6 is the second project in this course where you will understand how an analog voltage is sampled and implement it by directly writing to the registers. (No library use here)
Section 7 is the third project in this course where you will understand how to sample real time temperature and how the processor interprets the value in degrees C of F. You will implement it using ASF code.
Section 8 is a homework project in which you will implement temperature sensing using direct register access. Solutions are provided for reference.